About Our Construction Estimating & Material Estimates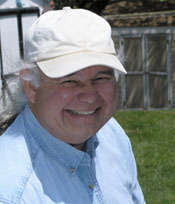 From Concept to Completion, William C. Young, Jr & Associates are veterans of the wood frame construction industry. The owner Bill, has personally supervised and managed construction projects throughout the eastern United States. His talents include design, carpentry, estimating, project manager and owners representation. Projects range in scope and size from additions, tract homes, custom homes, apartments, both low rise and high rise. Bill has personally worded in various locals including the states of Maryland, Virginia & Washington, DC, but also includes projects for New Jersey to Florida. He knows from real practical experience and performs material estimates and other construction estimating processes, the old-fashioned, hands-on, quality way rooted in time-tested personal knowledge that helps create savings and improve quality.
Bill's extensive negotiation experience with Federal, State, County and City administrators give him unique insights about essential detail and documentation required for concept, design, planning, estimating, budgeting, financing and construction.
William C. Young, Jr & Associates; when accuracy counts; count on us.
Construction Management
More families are choosing to be their own general contractors. This adventure can be exciting as well as time consuming and confusing to those not born into the knowledge of the building trades. Contract with William C. Young, Jr & Associates for time-tested insider insights and you will save time and money while assuring the quality of the home of your dreams. You can do it. You can do it even better with William C. Young, Jr & Associates.
William C. Young, Jr & Associates can over see your actual project from start to finish, whether it be residential or commercial. You will always get the best this company has to offer. When new concepts and plans need attention, expand your capabilities for growth by contracting with William C. Young, Jr & Associates and find that a new strategic assist awaits your project.
Material Estimates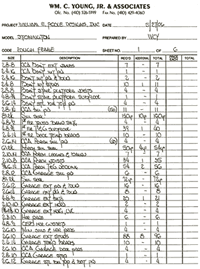 Seeing is believing. The sample Material Estimate that you can click here and read in its entirety on this page, shows you our estimating detail, the attention that we give to hand generated estimates that you can rely upon. Our details save you time and money. They improve quality. Builders and homeowners like the benefit from our accuracy and completeness. Send us complete drawings and we will do the most complete job of estimating possible from what is presented. It's time for you to experience William C. Young, Jr & Associates as simply the best material estimates possible.
William C. Young, Jr & Associates profitably tends to your business whether you are a lumber company, builder or your own general contractor. Experience the benefits of true quality estimating the William C. Young, Jr & Associates way. Our cost estimating detail puts savings into every project, large or small.  Quality begins in design, planning and material acquisition. Every construction stage benefits from our accurate, reliable material estimates. Put the veteran team of William C. Young, Jr & Associates to work for you. Make your first step a stop at William C. Young, Jr & Associates to begin with the best. It's only a telephone call to start the process of saving you money.